It was kind of fun to watch the numbers climb and to take pictures…as long as we stayed in the car!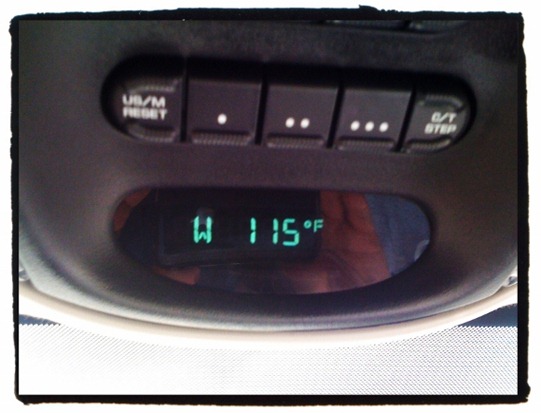 My family just returned from a road trip to the homeland – Texas.  I love going back home.  I enjoy seeing friends and family, checking out everything that has changed – and everything that has not changed. And, I always look forward to taking in some of the local dining establishments that I loved while growing up and that you just can't get anywhere else.
However, this trip brought something that I do not enjoy so much … intensive, never-ending, no-hiding-from, make-you-want-to-crawl-inside-of-an-air-conditioner heat!
I do remember hot summers growing up.  However, I don't remember heat like we experienced this trip.  When the outside temperature is that hot, there is just not much you can, or want to, do.
The big problem:
Sapped energy. Besides all of the medical issues that this kind of heat can bring (like sunburns, heat stroke, dehydration, etc.), this amount of heat causes one major problem.  It steals your energy just by being in it.  You can start with lots of energy, walk outside, and within 60 seconds flat, be so tired that you feel like you just ran a marathon.
My example: The place we visited has an incredible playground – it is like a small wooden city and fort combined.  My kids love it and beg to go there.  So, I decided to get out early one morning (well, early for us – about 10:00am) and let the kids go have some fun.  We did well by starting out early.  However, within thirty minutes, the heat was nearing 100 degrees.  Soon thereafter, my kids started begging to go back home – to get inside – because they were tired and didn't want to play anymore…at one of the coolest playgrounds ever!
Seven thoughts for dealing with the heat:
Start early. If you want to do something outside, try to get it done before the heat of the day – maybe even before the sun comes up.
Find shade.
Drink a lot of water.
Play in the water.
Use sunscreen.
Bahama Buck's – the world's best shaved ice.
And….
Question: What is your favorite summer-time trip?  And, how do you survive the heat?
10 Comments to "Why I Don't Like 115 And 7 Ways To Deal With It"
Welcome
Thanks for stopping by! Here, you'll find thoughts and tips on being intentional in your family, your life, and in your leadership. Read more about me and this blog
here
.
And, you can learn about subscribing
here
.
Get Posts by Email
Recent Posts
Categories
Archives