Day 2 of our wild adventures in Vacation Bible School!!!  I love being a part of a bigger story than my own small story.  This week is definitely shaping up to be a God-sized story and I am excited and honored to be a part of it.
[This is part of the Why We Cannot Wait For Summer Series.  Have you seen the other posts yet?  Click here to see the list of posts for other days of Vacation Bible School!]
As I mentioned yesterday, we love to worship.  We use simple, yet meaningful, intentional and fun motions in our worship.  Here are some of our passionate worship leaders leading the way as we got started this morning.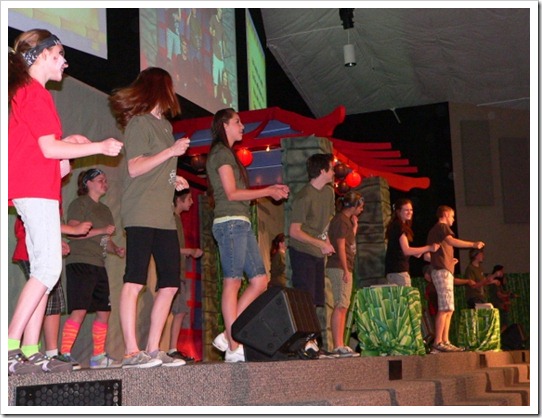 Kung Fu Masters
One aspect of this big event, that we always find to be a lot of fun, is the opportunity to put on a costume and take on a slightly exaggerated personality (that should be read as it is an excuse be silly, act like a kid, go big and have a lot of fun).  Here is a picture of our two leaders for our elementary friends.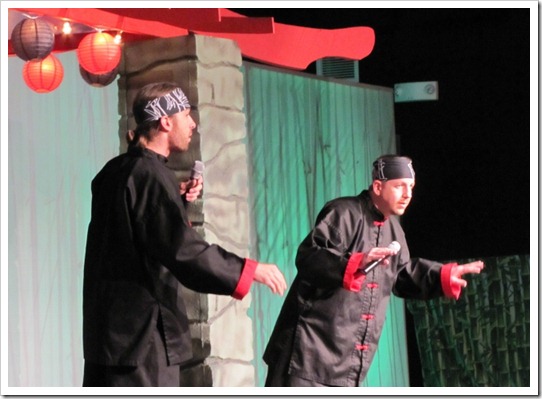 Yes, that's me on the right.  This week we get to pretend to be Kung Fu Masters – at least in costume (not so much in ability; although, it looks like we will – with a little help – get to break some boards tomorrow in a martial arts demonstration!).
God Sightings
We are challenging the kids this week to look for, and to be, God Sightings.  Simply, this is watching for where God is at work in our lives.  A God Sighting could be as simple as a hug or a high five to let someone know that they are noticed and cared for.  It could be an act of respect like holding a door open for someone and letting them go first.  it could be helping someone.  Or, it could be something even bigger like unexpectedly giving a meal for a family, visiting someone in the hospital or going out of your way to do something for someone that they could not have done on their own.
And, the kids have a chance to share there God Sightings (where they saw someone else be, or they themselves were, the God Sighting).  Here is a picture of some kids getting to share their sighting today.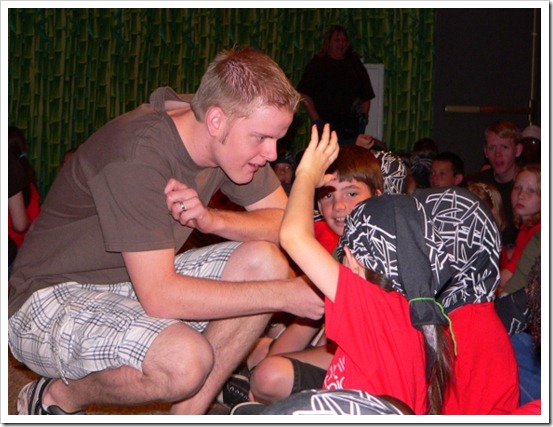 Wild Bible Adventures
With all of the excitement and crazy antics of the week, we have a core purpose of using the fun to share episodes of God's Big Story.  Today's Bible Story showed us how God listened, and responded in a powerful way, when Elijah called on him (1 Kings 18:16-39).  Here is a picture from our Wild Bible Adventure Crew sharing that story.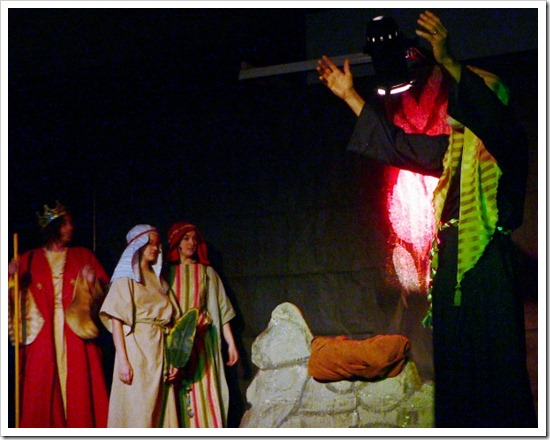 Games???
Of course.   Our day would not be complete without some wild and exciting games.  Blindfolds and squirt bottles?  Should I be worried?  Of course not!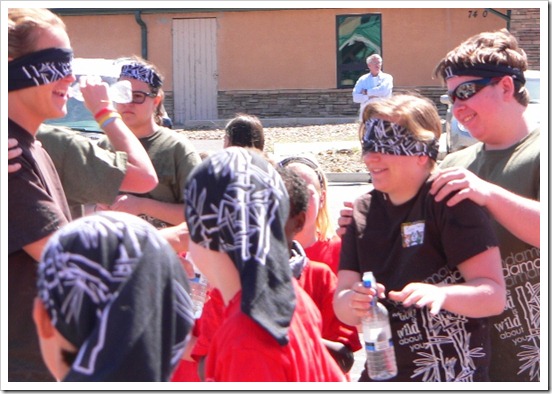 Our Games Team is very intentional each day with leading games in a way that reinforces the main point being taught that day.
What We Learned
Our Bible Verse of the day spoke to us about how well God knows us and listens to us.

Wow!  God knows our hearts and knows what we will way even before it passes our lips!
Our Bible Story, as mentioned above, built on our Bible Point to remind us that God will listen and respond when we pray to him.
Our Bible Point of the day was "God Listens To You!"  No matter where you are, what you are doing or who you are, God will listen when you speak to him!  Awesome?  Definitely.
One Final Picture
How can you hear someone whisper across a crowded, noisy room? With this!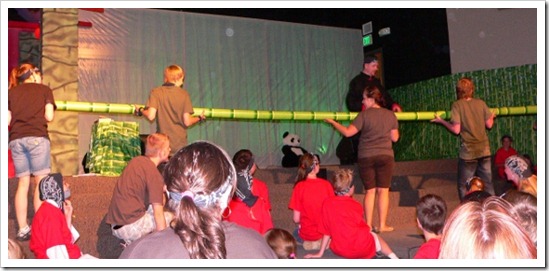 What you see is a portion of a 50-foot-long tube (this is about 25 feet of the tube).  A person whispered into one end of the tube and, even with an excited and noisy room, the young child on the other end could hear and repeat what was said.  We were even told that people within a 20-foot radius from the end of the tube could hear what was said.  Way too much fun!
The point, though, is that even if we need help hearing, God does not.  God knows you!  God loves you!  And God listens to you!
I can't wait for tomorrow!
[Want to see what happened next?  Click here to view God Is Wild About You – VBS Day 3]
Question:  What is the silliest thing that you have ever done in trying to get a point across to someone?  You can leave your story in the comments section by clicking here.
5 Comments to "God Is Wild About You – VBS Day 2"
Welcome
Thanks for stopping by! Here, you'll find thoughts and tips on being intentional in your family, your life, and in your leadership. Read more about me and this blog
here
.
And, you can learn about subscribing
here
.
Get Posts by Email
Recent Posts
Categories
Archives