What better way to end an incredible week of Vacation Bible School than to celebrate with the whole church!  Our church took the opportunity this weekend to remember, celebrate and share the experiences of what God has done through VBS.
[This is part of the Why We Cannot Wait For Summer Series. Have you seen the other posts yet?]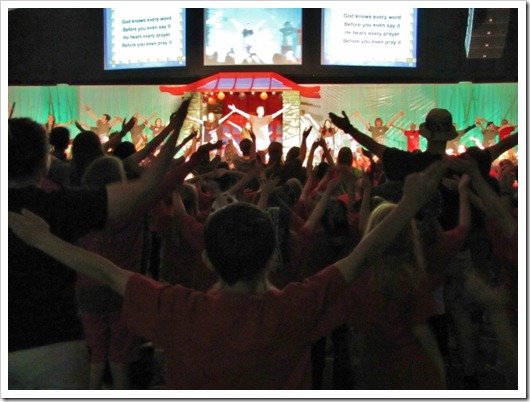 Experience The Event Through Video
Want to experience a little bit of the whole week in under four minutes?  Check out the following video:
Why Celebrating Is So Special
Vacation Bible School is a big deal in our church.  It is a big event.  It is exciting.  It is life-changing.  And, it takes the whole church to make it happen.  However, it is impossible for everyone to be connected with the event.  And, unless you participate in the event, you miss out on the experience.  So, we took a bit of the energy, a bit of the excitement and a bit of the message from the 5-day event and shared it during the normal weekend services.  Now, whether you were there for the whole week or for an hour on the weekend, we are united in what God is doing through our church.
Cool Highlights
There were some really cool things that I watched and experienced during the services that I have to share with you.  Here are 4 quick highlights from the weekend services:
Bamboo (Panda) Power Launcher. We brought back our special creation from Day 1 and shared some fun gifts with the crowd.
Soul-touching Drama. Our Bible Team shared a drama reminding us of how much God loves us, what he did for us, and our place with him because of what he asked his son to do for us.  It brought tears to my eyes!
Five Bible Truths. Chris shared the five truths (Daily Bible Points) and connected them to each one of us whether we are a child, teen or adult.  The five truths, one from each day, are:

Beautiful Picture of Worship. Words cannot adequately describe the incredible experience to see children, teen-agers and adults all sincerely, truthfully, whole-heartedly worshipping together.  Simply to say…POWERFUL!
Thank You
There are so many people that gave so much time, brought so much energy, expressed so much passion… I want to say thank you to each and every one of you.  You are amazing people and God has used you to have an incredible impact on the lives of children, their families and many, many more!
Also, a special thanks goes to Ray and his photography team and to Todd the video guy – your pictures and video have made a great impact in sharing the VBS experience!
Not Done
This last week was incredible; but, there is more to come.  Keep praying for the Neighborhood VBS's that will take place throughout the summer!  God is doing something big!
6 Comments to "God Is Wild About You – VBS Weekend Celebration"
Welcome
Thanks for stopping by! Here, you'll find thoughts and tips on being intentional in your family, your life, and in your leadership. Read more about me and this blog
here
.
And, you can learn about subscribing
here
.
Get Posts by Email
Recent Posts
Categories
Archives