Awhile back I sat watching a Monday Night Football game in which one of my favorite teams was playing.  The game was intense – meaning that it was hard to watch my team begin to go down in flames.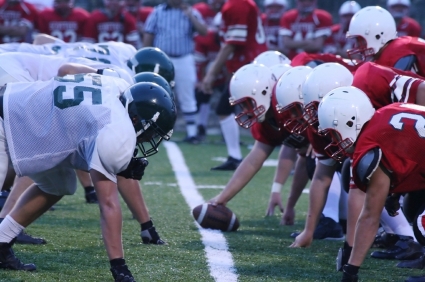 Everything was going wrong.  By half time, I was ready to give up and change the channel – especially since it looked like my team had given up.  Then, my team emerged from the tunnel for the second half.  As they began to play, you could tell something was different.  My team began to take control and play like champions.  They came back from a dismal start and won the game in total dominance.
In thinking about the game, there is one thing that really stood out to me.  I was amazed at how they finished the game.  They didn't stop playing at half-time.  They stayed in the game until the last seconds ran off the clock.  Their passion, conditioning, preparation and an unwillingness to give up set the stage for them to overcome so much in order to be victorious.
Recently, I watched another game of my favorite team that had a completely different outcome.  This game started out about the same as the first game mentioned – horribly.  Unlike the first game, this game did not get any better.  There was never any turn around, second effort or last-minute surge.  The fire and passion that propels teams to victory never came.  The looks on the faces of the players betrayed them and showed doubt, a lack of confidence, a lack of belief in the possibility of change – that they could, should, or deserved to come back for a win.  Obviously, this game was a tragic loss.
Same team – different game – different effort – different outcome.  What was the difference?  I am sure there are many varied and passionate opinions.
I think that the bigger question for us, though, is what do we do in that situation?  When things seem that hopeless, it would be easy to give up.  But, I believe God has called us to something better.  God gives us great potential for a change.  The key is to turn around.  Don't approach it as one giant leap to get all the way back to a perfect state.  Just turn around.  God is still right there behind us.  He just wants us to turn around; and then, one by one, to take a step towards Him.
What would happen if we started right now and took the same approach as that first game in our daily lives and our Christian walk?  To find our passion, to train and condition thoroughly, to identify and prepare for the challenges that lie ahead, and then to pursue with all of heart.  Just imagine what God would do with that…
"I press on toward the goal to win the prize for which God has called me heavenward in Christ Jesus." – Philippians 3:14
3 Comments to "A Tale of Two Teams: Which Are You?"
Welcome
Thanks for stopping by! Here, you'll find thoughts and tips on being intentional in your family, your life, and in your leadership. Read more about me and this blog
here
.
And, you can learn about subscribing
here
.
Get Posts by Email
Recent Posts
Categories
Archives