Browsing all articles tagged with problems - Steven Cribbs
I have never heard of anyone being thankful for fleas…until I heard the story of a lady named Corrie ten Boom. Corrie, living in Holland during the 1940's, was arrested and sent to one of the worst places on earth.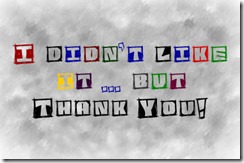 Corrie, along with many others, landed in one of the worst concentration camps in Nazi Germany. Her crime … helping Jews flee Hitler's regime and escape to freedom. I can't even begin to understand the conditions of her life and of the camp she was sent to. But, from the descriptions, the camp was worse than the worst place you can imagine. Lack of food. Lack of the basic necessities to sustain life. Lack of sanitary conditions – causing great risk to life. The labor was extreme. In a space created for 400 people, lived about 1400 women. And, this space was infested with fleas!
Welcome
Thanks for stopping by! Here, you'll find thoughts and tips on being intentional in your family, your life, and in your leadership. Read more about me and this blog
here
.
And, you can learn about subscribing
here
.
Get Posts by Email
Recent Posts
Categories
Archives