Most of us have heard thoughts like God knows every single one of the hairs on our head (all 140,000 of them) and that God has plans to prosper us and not to harm us. But, do you still find yourself wondering from time to time if God has a purpose for you or if you are in the right place or the right time?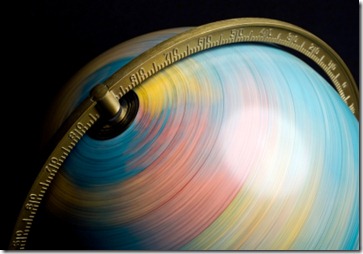 Sometimes it is easy to slip into a mode of wondering if God really spends much time on His plan for us – and it is easy to get discouraged at that point. I was recently reminded of how much God does love us, how well God knows us, and how specific God is when placing us in His plan. Think about this:
Imagine God taking the earth and spinning it – through space and time – in the palm of His hand. As it is spinning, God is able to see everything about each individual place on earth and each point in time throughout history (past, present, and future). Then, with you not yet placed in this world, He reaches out and picks you up (reminding me of a favorite video game where you can pick people up and place them anywhere in the theme park that you wish). While holding you, God stops the spinning earth at a very specific place AND very specific time.
Then with a loving touch, the God of the universe gently places you exactly where you find yourself now. It could have been anywhere – from Colorado Springs, CO to the fringes of Antarctica to somewhere in Tanzania. And it could have been at any point in time – from 3000 BC to 300 AD to today to some point in the future. God knows exactly who you are, how you were made, how you work, your desires and dreams, what you need to function in life and even the other people that you need to cross paths with. God even knew that you would not have survived without the indoor plumbing of the 21st century! And with all of that in mind, God placed you, with great care, exactly where you are…exactly where you need to be…exactly where you can be the most effective in His plan. God didn't make a mistake!
God created us uniquely – with unique personalities, unique characteristics, unique desires, and unique abilities. God knows all of our unique traits better than we ever will. And, when we allow Him to, God will use those unique abilities to change our world (His world) and to prosper each of us – giving us hope and a future (Jeremiah 29:11).
Sometimes it is hard to see, or believe, that God has gifted us with specific skills, talents, and passions that He wants to use. Sometimes it is hard to believe that God has a plan for us – especially given current circumstances. But, hold on to God's promises and trust that He has created you in a very special way. Keep listening and watching for what God wants for you.
How has God uniquely created you? What gifts and passions is God challenging you to use?  You can leave a comment below.
10 Comments to "Does God Really Have A Plan For Me?"
Welcome
Thanks for stopping by! Here, you'll find thoughts and tips on being intentional in your family, your life, and in your leadership. Read more about me and this blog
here
.
And, you can learn about subscribing
here
.
Get Posts by Email
Recent Posts
Categories
Archives