We are just days away from Christmas! Many people say that this is their favorite time of year for one reason or another – family, food, presents, special events, snow and mistletoe. And then we have the traditions (and fond memories) of the season's stories – Santa Claus, Rudolph, and, of course, Jesus.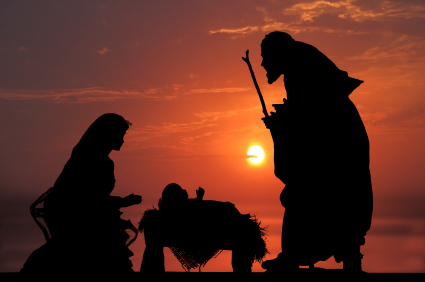 When was the last time you spent any significant amount of time reading on, thinking about or dwelling on the story of Jesus' birth. Most of the time we read quickly through the story to get to the birth of Jesus and the promise of a future through Jesus. Occasionally, we dig a little deeper. It amazes me though, as I linger on the words of the story found in Luke 2:1-20. This story includes real people, with real struggles and real needs – not too much unlike things we experience today. Ok, I doubt that any of us have had to settle for letting our baby sleep in a feeding trough. But, there are many struggles that mimic our struggles – being told to do something that is hugely inconvenient or seemingly impossible, being told we can't have what we think we need, impending life-changing events and health issues just to name a few.
 
Think about a young couple – starting out with all the odds stacked against them. Think about field workers (shepherds) out doing their jobs and then seeing something unbelievable – I mean, how many people today would put any stock in a group of common laborers that said they had seen angels in the sky singing and talking about a baby that will be king of the world. And then you have a community in general, that has not heard from God in 400 years, trying to figure out what to make of these experiences and if God really is doing something. How many of us go through dry spells in our experience with God and then question the thoughts, words, and experiences that God brings to us???
 
It is so easy to get busy, be busy and stay busy during this season. In fact, in some ways, it almost seems as if we are supposed to be in this state busyness. We have the things we need to do. We have the things we want to do. And then you add in all of the things that everyone else wants us to do or to participate in. It can be quite overwhelming and can cause us to begin shutting down – and we then find ourselves just going through the motions. We can become so distracted and stressed by trying to do all of the right things, that we eventually squeeze out the most important things (like a real connection with God and family).
 
I encourage you to make an appointment with God each day between now and Christmas. Decide to take a specific amount of time at a specific time each day just to be with God, to meditate on His Word and the stories of this season. Even in this busy time of year, God is still God. We are still a part of His story. And we can still have joy because God really does love us!
Welcome
Thanks for stopping by! Here, you'll find thoughts and tips on being intentional in your family, your life, and in your leadership. Read more about me and this blog
here
.
And, you can learn about subscribing
here
.
Get Posts by Email
Recent Posts
Categories
Archives